From this kitchen 6 weeks ago in our real estate….
to this in our wheel estate….
How small is our kitchen? Well, I sat in the same spot to take all of the photos.
The fridge. I am thinking it is about the size of Paula Dean's bedroom midnight snack refrigerator.
Ahh yes, the pantry. Otherwise known as "Humpty Dumpty", cause after every travel day, we have to put it all back together again.
Microwave. We had a choice in sizes: small or cute. We upgraded to cute. Anything for the wife.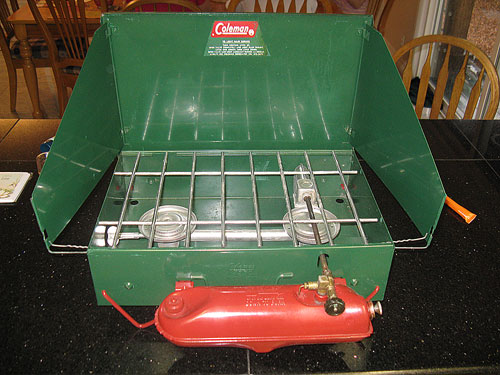 Our kitchen stove....
Oh wait, ours is black.
No, not turbo exhaust for our stove top. Those are magnetic spice containers. We Texicans were not about to sacrifice in that area of menu planning.
High maintenance, low cost dishwasher.
If you recall, I had to surrender a full-sized toilet. I was not conceding on the size of the "other pot" in our portable home.
Day 25. Hasta la vista Bakersfield, CA. en la manana. The Jr. Ark and its towable studio apartment venture west toward the coast. Another exhausting drive of 200 mi. or so. Rumor has it there is some large body of water awaiting us and gold in the hills. And if you are familiar with prices of gas, food and lodging in CA., finding a lil gold would help.
The journey continues.